How our Defensive Driving Online Course Works.
There is no easier or faster way to erase a traffic ticket than this defensive driving online Texas course. The ExpressLane Defensive Driving Online course is a no reading video based course. Take the course on your computer at home, at work, the neighborhood coffee shop or on the go. You can start the course on one device and pick it up where you left off on another. There are high-quality videos to watch, quizzes to take. And if you get your answers wrong, you can go back review the video and take any section again to raise your score.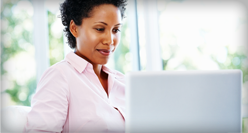 The Defensive Driving Online Course That Is Over As Soon As You Finish.
Most defensive driving online courses aren't over when you have answered all the questions. Why? Because you have to either pay expensive shipping fees or physically take your completed defensive driving course down to the courthouse. Until you have done that, your ticket stays on your record. But our defensive driving online course is different.